On May 19th, 1998, my sister, Jeanette, suddenly passed away. I am now able to assemble some thoughts and portray them as a sort of tribute to her in a way that she would've appreciated. Actually, she probably would've thought something like this would be too tacky and stupid for a tribute, as she wouldn't have liked any sorrow associated with either her life or her death. She once said that if she ever died that there was to be "no whining!" Well, here goes:

She was an award-winning artist / illustrator; examples of her artistic talent can be found everywhere. Her twenty-five covers for Business Week magazine won her numerous awards in the graphics community; her National Lampoon covers added some much-needed humor to the world. She also did covers for Newsweek, artwork for TV Guide, Disney, Warner Bros., Campbell's Soup, Dannon Yoghurt, and many, many other companies. If you received an Elvis card for your birthday, chances are good that it was her artwork. Walk through any grocery, department or discount store and you can see her designs and logos on many products. Your record collection probably contains some of her cover art; your favorite magazines most likely have at least a few of her illustrations; your favorite tea might be packaged in a box designed by her. She was a one woman dynamo, always working, always moving forward, always doing something productive. To a distant observer, it would seem that her work was her main focus in life. This was not the case.

Her two sons, Daniel and Tom, provided her with more joy and happiness than any work project ever could. Her love and caring for "the boys" seemed to radiate from her wherever she went, elevating the mood of whatever environment she happened to be in at the time. Anyone who was fortunate enough to meet her benefited from her wisdom, talent and, most importantly, her sense of being.

I was her younger brother. Actually, I think it's more appropriate to state that she was my older sister. It wasn't until her death that I could understand all the influence and guidance she provided me with throughout my life. Even her death was an influencing factor in my life, kind of like her telling me "Well, Dad's gone, and now I'm gone. It's just Mom, you and the boys. Isn't it about time to grow up?" OK, sis, I'm working on it.

Here are two pictures I found. The first one is either the first day of school or the two of us going to church, probably the latter. The second one is when she came out for my graduation from C.U. I surprised her when I showed up at her Skidmore graduation ("A" average, of course); she returned the gesture (actually, I think she just wanted to see with her own eyes that after many years and many majors I really was graduating!).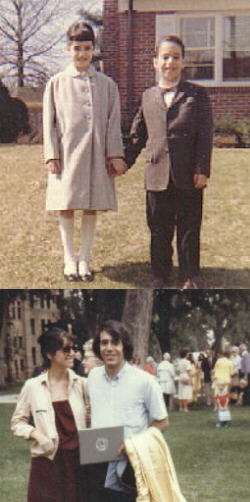 Jeanette, we're all going to miss you.